Skip Navigation
Website Accessibility
Music Lessons
Music is an important part of life and taking lessons is a great way to get started in making music! No matter what your skill level, no matter what style of music you want to learn, we have instructors that can help you on your musical journey! Lessons are generally a half-hour, one-on-one sessions scheduled for the same time every week. This allows the student to review what was taught last week, learn something new, and have a whole week to practice in preparation for the next lesson. Rates are set by the instructor, so call or email today for more information.
---
Caleb Cook, Guitar Instructor
Caleb Cook has 20 years experience playing guitar, and over 10 years experience in the general field of music performance/education.

Caleb received his A.F.A. in Music Performance from Parkland College in 2006. At Parkland, he studied with local guitar professors Wes Howard, Jordan Kaye and Shawn Purcell. During his time at Parkland he studied and practiced classical guitar, classical music theory, jazz guitar, jazz theory, and composition.

Caleb participated in several collegiate ensembles in his time at Parkland, including: Jazz Big Band; Small Jazz Combo; Classical Guitar Ensemble; and he spent two years singing with the Parkland Chamber Choir.

Caleb is a regular gigging musician who has been performing for live audiences since he was 17. Since graduating from Parkland he has played a part in several bands as singer and/or guitar player as well as further developed his solo career as an acoustic artist and song writer.

Caleb offers lessons in guitar, bass guitar, banjo, mandolin, ukulele, music theory and composition. It is his goal to teach and inspire other developing musicians, while continually growing himself.
calebcook.guitar@gmail.com
Sean Fraser, Guitar Instructor
Sean has taught people of all ages and backgrounds for over 14 years pointing them in the right direction and helping them achieve their musical goals. He believes in tailoring each lesson to the individual student's passions, interests in musical styles, songs and specific techniques while making sure that no bad habits are developed. In addition, he strives to guide students around common pitfalls of learning the guitar. In his lesson plans, Sean incorporates core fundamentals such as chord theory, scales and advanced sequences, sight-reading and rhythm studies, improvisation, music theory and technical exercises.

Using an immersive teaching method Sean utilizes the latest in educational software technologies such as Guitar Pro and Transkriber to help students grasp songs, concepts, and techniques more quickly and efficiently. As part of his technical immersion he uses a 32" digital display which acts as a digital blackboard enhancing students' ability to learn. Student's learning time is also maximized through the use of pre-printed lesson materials and onsite transcriptions printed at the touch of a button.

In addition to guitar itself, in his studio, Sean also covers the use of guitar effects and signal chains to help students find the sounds they are looking for. He also incorporates pedal boards for electric guitar students to give them a "real world" taste of what it takes to play live with effects units. Students are also exposed to multi track recording and how to layer tracks into songs and the ins and outs of the recording process. With all of these tools in his studio at his disposal his goal is to help students not only see a more complete picture of the guitar, but its place in popular music. For additional information please visit seanfraserguitar.com
guitar7620@gmail.com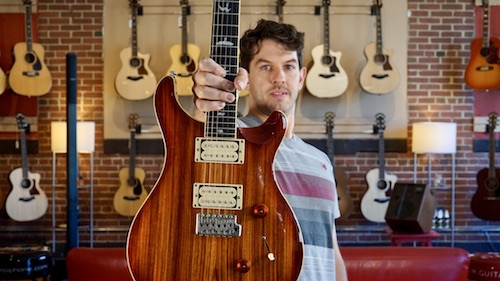 Mark White, Guitar Instructor
Mark is a versatile electric guitarist with an appetite for just about any style. He is a Champaign native who has played with many local bands such as Grand Ambassador (indie/powerpop), Nuclei (reggae/R&B), Tell Mama (soul), Bad Medicine (classic rock), Aquila (jam-band). His groups have appeared at the Urbana Sweetcorn Festival (where he opened for Smash Mouth), Dietrich Sesquicentennial Celebration, Villa Grove Ag Days, Pygmalion Festival, Taste of Champaign (where he shared a stage with Kurtis Blow) and the Urbana Folk and Roots fest. He has hosted local open jams at Canopy Club and Pipa's Pub, and along with Jonathan Parrish he currently hosts an open mic/jam at Clark Bar every Wednesday.

At present, Mark plays with the groups AllNighter (top 40), Afro D and Global Soundwaves (hiphop/jazz), Mid-October (indie/90s alternative), Triple Play (classic rock), and fronts a trio, drOpsy, which performs his original music. He also is a proficient audio engineer - most recently he mixed and recorded local percussionist extraordinaire James Mauck's Forebeat album "Duality", as well as the work of his many groups. Mark has a vast array of guitar and studio gear - as a session musician, Mark prides himself on his ability to capture just about any guitar tone imaginable. He even builds his own guitar effects pedals which can sometimes be found for sale at the Upper Bout.

Stylistically, Mark borrows heavily from the fusion idiom, but feels equally at home in blues, funk, soul, rock, country, gospel, and metal. Some of his favorite players and influences are jazz cats like John Scofield, Wes Montgomery, Tom Jenkinson (squarepusher), and Pat Metheny; fusion and rock heavyweights Guthrie Govan, Eddie Van Halen, Slash, Robben Ford, Eric Johnson, Jimmy Herring, Michael Landau, Frank Zappa, Steve Vai, Allan Holdsworth, and country/blues pickers Danny Gatton, Josh Smith, Brent Mason, Leo Kottke, Tommy Emmanuel, Billy Strings, and Johnny Hiland. Mark also has a love for classical, electronic, and world music as well. Some of his favorite composers are Bartok, Aphex Twin, Stravinsky, Beethoven, Rameau, Xenakis, John Zorn, Debussy, Satie. Classical Indian music, Reggae, Latin, and African and Afro-Cuban music also can be found in his Spotify rotation.

Mark recognizes that each student brings a unique set of goals and sensibilities to their musical endeavors. He encourages his students to balance practical applications of technique and theory with free exploration as they advance toward their unique musical goals. In this way he hopes to motivate and inspire students to connect more deeply with their instrument while at the same time honing their musical awareness and overall musicianship. Mark's work with students focuses on deploying good technique, timbre, and time. He offers lessons in performance, music theory, composition, and improvisation to students of all ages and abilities.

yateswhite@gmail.com
Javi Vasquez, Bass Instructor
Jose Javier Vasquez, better known as Javi, is a Guatemalan-American bass doubler, arranger, composer and educator. He began his musical career at a young age in Huntsville, Alabama.

From orchestras to combos, Javi enjoys performing in a variety of musical ensembles. His favorite setting, however, is in the musical theater pit orchestra. He has performed in over 10 musical theater productions and continues to add more each year.

Javi earned his Bachelor of Music degree at Berklee College of Music in Boston, Massachusetts with a major in Performance and a minor in Theory of Jazz and Popular Song. While at Berklee, he studied under the direction of world-renowned bassists including Ed Lucie, Susan Hagen, Gary Willis, and Mike Pope. Javi is now pursuing a Master of Music Education with Licensure at the University of Illinois at Urbana-Champaign.

In addition to lessons on the electric and double bass, Javi offers classes on theory, composition and arranging. He is able to accommodate both English and Spanish speaking students and hopes to encourage individuals of all ages to find joy in music.
jvasquezbass.com
vasquez.javi99@gmail.com
Dean Meece, Banjo Instructor
Dean Meece, a Champaign County native, began his banjo journey in 1980 taking lessons from Central IL banjo great John Gantz. Having been a fan of Bluegrass music and the 5-string banjo from a young age, it was under John's teaching that Bluegrass banjo became one of Dean's passions. The music of Earl Scruggs became the foundation of what still inspires Dean to this day. This passion for the banjo is evidenced in Dean's knowledge of not only the instrument, but of the music and the players who have shaped what is known as the 3-finger style of Bluegrass banjo.
The trumpet was a key role in Dean's musical training, playing for 9 years in concert band, jazz band, marching band, etc. It was while playing in a jazz ensemble in high school, that he learned the importance of "ear training", improvisation, and most importantly timing. His goal is to instill these skills in each of his students. Dean also teaches the mechanics of playing 3-finger style banjo: the importance of hand position, relaxation of the picking hand, how to properly wear, shape and use both finger and thumb picks, as each player will have varying hand positions. So the belief that "one size or one way fits all" method of playing the banjo does not exist in his method of instruction.
Although Dean is primarily a Scruggs style picker, he does play and teach some melodic style of playing for the beginner and intermediate player. He teaches how to read tablature, how to practice with a metronome, how to listen and develop your ear. No matter your age, or musical background, Dean can help you along your way, on your own banjo journey.
dean.meece@sbcglobal.net
Dr. Felix Chan, Piano and Voice Instructor
Dr. Felix Chan received his BM at the University of North Texas. He earned his Master's and Doctoral degrees in Music from the University of Illinois. Besides the USA and Hong Kong, he has performed in Europe where he received additional musical training in France (Paris), Austria (the Esterhazy Palace), Italy and Poland.

He has taught piano to children, teenagers and adults in all levels and abilities for more than 20 years. He is an experienced teacher, recitalist and accompanist. He has taught at the U of Illinois and The Conservatory of Central Illinois. From 2002 to 2007, he played in 19 musicals (over 135 performances) and he was the musical director for two musicals.

Dr. Chan's piano teachers include Ian Hobson, Katherine Glaser (a devoted student of the legendary pianist and pedagogue Artur Schnabel), Ward Davenny, William Heiles, Kenneth Drake (an expert in Beethoven and the pianoforte instrument of his time), Joseph Banowetz and Tony Caramia (jazz piano). He is also a classically trained singer (baritone). He has sung in four full-length operas and in many major choral works.

Dr. Chan is committed to teach every student and provide them with quality instruction so they can reach the best of their musical abilities.
piano4us@yahoo.com
Adrián Alvarado Azofeifa, Classical Guitar
Adrián completed his Basic Stage studies in Classical Guitar at the University of Costa Rica
under the guidance of maestro Luis Zumbado.

He attended masterclasses in classical guitar with renowned teachers such as Eduardo Martín,
Juan Carlos Laguna, and José Ángel Navarro, as well as in electric guitar with Frank Gambale,
Mike Stern, and Jorge Chicoy. Additionally, he participated in workshops on popular music with
maestro Eduardo Acosta and in Jazz with professors Roberto Antillón and Gerardo Porras.
With 20 years of experience, he has been a guitar instructor in the genres of popular, classical,
and electric guitar. He was an active member of the Guitar Orchestra at the Escuela Superior de
Guitarra, the Guitar Orchestra of Costa Rica, and the Guitar Orchestra of the University of Costa
Rica, with which he recorded two CDs. He has also been part of various popular music groups,
performing in countries such as Honduras, Nicaragua, Mexico, Colombia, Canada and United
States.

In 2021, Adrián successfully concluded his Master's degree in music, majoring in guitar at the
University of Costa Rica, under the guidance of Cuban maestro Jorge Luis Zamora.
Currently, he is in the final year of the Artist Diploma degree in guitar at the University of
Illinois at Urbana-Champaign, mentored by professor Dr. Guido Sanchez-Portuguez.
adrianelcaiman@yahoo.com
Calum Beckett, Guitar Instructor
Calum has been playing the guitar for the past 8 years. He has been performing around the Champaign Urbana area for the past 5 years and in Boston, MA in bands and as a solo act.

For the past two years, Calum has been studying at Berklee College of Music in Boston, majoring in Guitar Performance. He is currently pursuing his bachelor's degree from Berklee's online program. While at Berklee, Calum played in a wide variety of ensembles including Rhythm and Groove, Mixed Popular Music, Small Jazz Band and Grunge Rock. In the Guitar Department, Calum studied with professors such as Rick Peckham, Craig Hlady, Tim Miller and Joe Musella.

Calum offers guitar, bass, music theory and ear training lessons. His versatile background gives students the opportunity to learn a variety of different styles. These include jazz, bossa nova, acoustic, blues, rock, grunge, metal and country. Calum's approach to learning guitar is through songs and exercises via iReal Pro. He hopes to continually improve his instrument through completing his college education and learning from his students.
calumbeckettmusic@gmail.com